MIC-FM inverted fluorescent, metallurgical microscope
Introduction:
MIC-FM serials microscope is a fully motor-driven multipurpose transmitting fluorescent biological metallurgical microscope.
MIC-FMT(Fully motor-driven,including motor-driven Z-drive )
MIC-FMB : Manual
This microscope can be widely used in each industry, mainly for research on the cell in the Petri dishes and bottles, tissue culture, sediment with transmitting and reflecting light, can be applied in bright field, dark field, phase contrast, DIC, polarizing, fluorescence filed.
MIC-FM serials microscope is ideal instrument for living cell micro working.
Main stand can be connected to a serials tools for your micro operation. With different light source and incubator
Inverted model, LD condenser with movable stage offers sufficient space for the sample or sample plate.
This microscope can be applied to DSLR adapter, easy to attache fluorescence, or fluorescence laser scanning con-focal device and other accessories.
MIC-FM microscope can offer two camera or TV mount according to customer's different application.
ICS optical design for the image output.
High thermal and mechanical stability
Ergonomic design, tilting head, instrument specification LCD touch screen or can connected to TFT screen, easy to get outcome.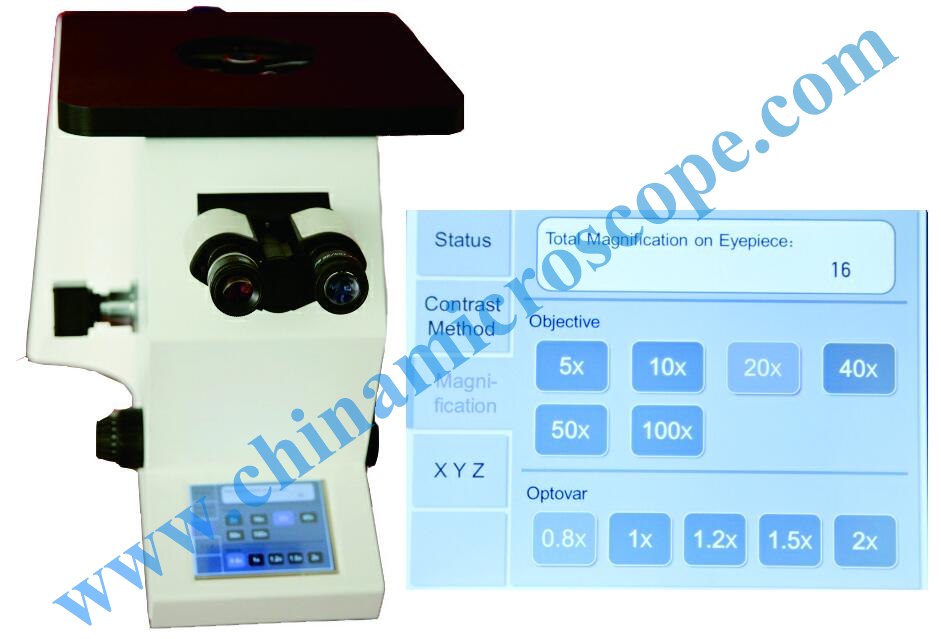 Eyepiece WF10X/23MM
Light control, reflecting controller
־ six points motor-driven digital nonspiece.
־ eight points motor-driven digital fluorescence turret (can be fixed or taken out)
־ five points filter wave length turret
־ five points motor-driven digital zoom turret
־ motor-driven aperture diaphragm and motor-driven filed grating
־ HAL 100, HBO100, HBO 50 illumination
־ all functions of microscope is motor-driven (Z1)

Motor-driven; Coding system can be read by computer; LCD display
CAN; RS232; USB; Out fixed shutter mount; Shutter trigger mount
Optical management; Observation method management
Motor-driven, stepper motor driven (Z axis 50nm)
Stage X ,Yaxis stepper motor driven (XY axis 10-0.2μ,press button to focus automatically. )
Automatic identification system nosepiece; Automatic identification system reflecting light turret
Automatic identification system zoom turret; Automatic identification system filter turret