1. Tilting head 0°-35°, maximum eyepoint to be 139mm
2. Interpupillary ditance 50-76mm, beam splitting ratio 100:0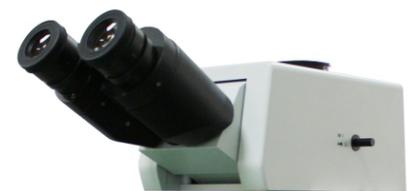 3. Bright field&dark field sixtuple automatic nosepiece, with stepping motor control, pinion drive;can be switched between manual and automatic, with DIC slot.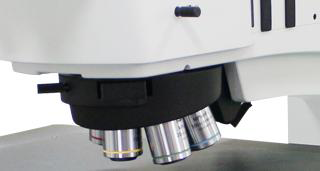 4. Each objective aperture diaphragm is prealigned with automatic focus, dark field automatic aperture diaphragm to maximum, at the same time, aperture diaphragm manually adjustable.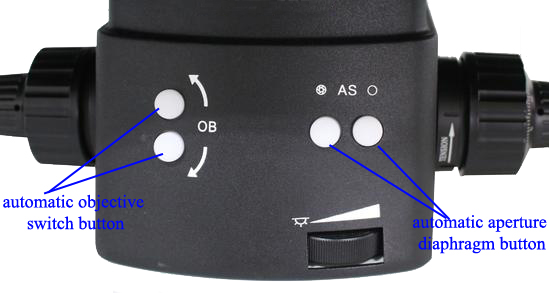 5. XY axis with stepping servo motor, maximum speed to 30mm/S, grating ruler resolution reaches 0.1μm, moving range 300x300mm, stage size 495x495mm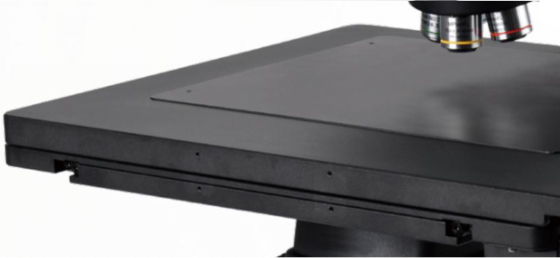 6. Z axis with stepping motor, moving range 28mm, with 0.1μm resolution grating ruler, can carry on high precision testing.
7. Powerful testing software
Model

MIC-MX12M (manual)

MIC-MX12A (automatic)

Alternative method of observation

Bright field/Dark field/polarizing/DIC

Bright field/Dark field/polarizing/DIC

Optical system

Infinity color corrected optical system

Eyepiece

High eyepoint plan eyepiece PL10X/25mm

Objective

LMPL-BD infinity LWD high contrast industrial Apo objective (both bright field and dark field available) 4X,5X,10X,20X,40X,50X,80X,100X

Viewing head

Tilting head 0°-35°, maximum eyepoint to be 139mm,

trinocular =100:0 or 0:100

Interpupillary ditance 50-76mm,

Nosepiece

Reversed automatic sixtuple nosepiece, both bright field and dark field available ,with DIC slot

Stage

14X12 inches manual stage with clutch hand lever, one press on the lever will easily makes the stage on work , moving range 356mmX305mm, stage size 718mmX420mm

Automatic stage: XY axis with stepping servo motor, maximum speed to 30mm/S, grating ruler resolution reaches 0.1μm, moving range 300x300mm, stage size 495x495mm

Z axis with stepping motor, moving range 28mm, with 0.1μm resolution grating ruler, can carry on high precision testing.

Body

Coaxial coarse and fine focus system, Coarse adjustment range 33 mm; precision of fine adjustment:0.001mm,,with coarse adjustment stop and tightness adjustment. Built-in wide voltage 90V-240V, single power supply output

Coaxial coarse and fine focus system, Coarse adjustment range 33 mm; precision of fine adjustment:0.001mm,,with coarse adjustment stop and tightness adjustment. Built-in wide voltage 90V-240V, dual power supply output

Reflective illumination System

With iris diaphragm and aperture diaphragm, both centers adjustable, with filter slot and polarizing device slot, switch rod with oblique lighting.12V100W halogen bulb, light intensity continuously adjustable

Transmission illumination system

Single high-power 10W LED, white, light intensity continuously adjustable. N.A.0.5 condenser with iris aperture diaphragm

Single high-power 10W LED, white, light intensity continuously adjustable. N.A.0.5 condenser with iris aperture diaphragm